Nursery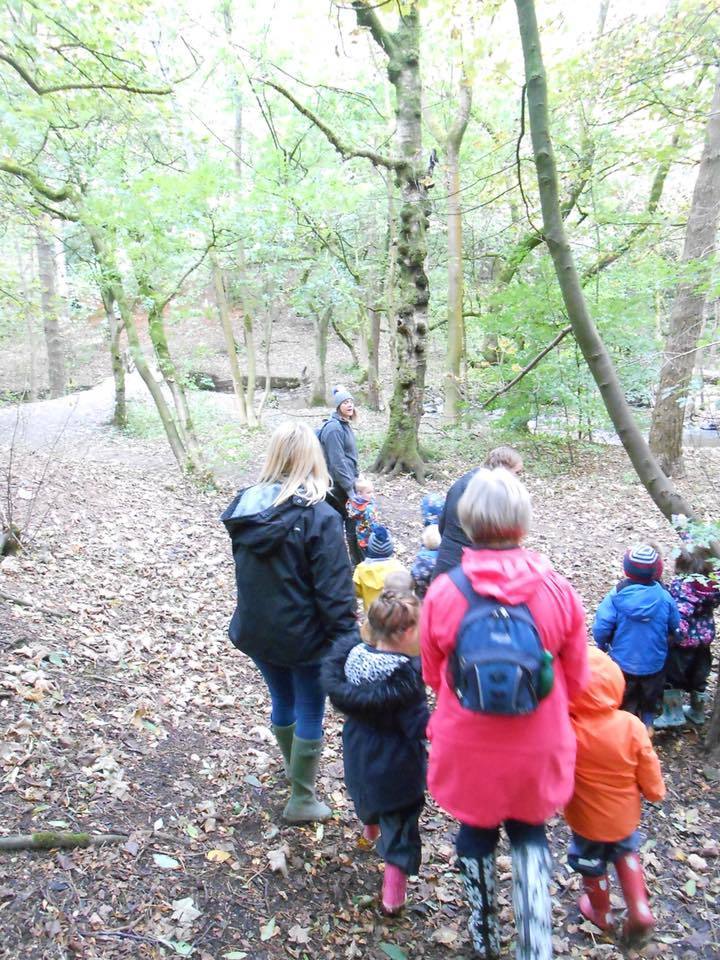 The Governor run school Nursery is located in a separate building on the same site as the main school. Our nursery caters for children from the age of two to four years.
The building was specially refurbished in 2017 and includes separate areas for 2 and 3/4 year olds, and two outdoor play areas. Nursery also have access to our extensive school grounds and often visit the woodland next to the school. Nursery children regularly visit the main school building, for example for their PE sessions with our Sports Coach, or to use the school library for story time.
If you would like to visit the nursery before you apply for a place, or if you require any further information, please do not hesitate to contact Fran in the school office on 01298 23261
Bear Cubs (age 2) - please click on the photo to enlarge:
Brilliant Bears (ages 3/4) - please click on each photo to enlarge:
Session Times:
Morning session: 9am until 12 noon

Afternoon session: 12.30pm until 3.30pm

All day: 9am until 3.30pm
Costs :
Bear cubs - Non funded 2 year olds: £20 per session (3 hours)
Brilliant bears - Extra sessions for 3-4 year olds: £18 per session (3 hours)

Children who stay all day can either bring a packed lunch or pay for a school dinner, at a cost of £2.30 per day.

The total cost for a whole day for 2 year olds is £40, and £36 for 3 year olds (plus £2.30 if they have a school meal)



Options
Please see the government website 'Childcare Choices' 'Childcare Choices' for information on funding for childcare for 2 year olds and the tax-free childcare scheme, which you can use to pay for the nursery sessions.
All 3+ year olds are entitled to at least 15 hours of free provision (known as 'universal') and some 3+ year olds will be entitled to up to 30 hours of (extended) provision.
We aim to provide flexible childcare to suit the needs of our families. You can choose the type of Nursery place, subject to availability, which suits your family:
Part time, 15 hours universal only – any combination of 5 sessions.

Part time, 15 hours universal, with the option of top-up places – extra sessions can be purchased, subject to availability.

The 30 hours a week free childcare scheme (subject to proof of eligibility).

Lunchtimes
Nursery pupils who stay for the full day, may bring their own packed lunch or purchase a hot school meal (provided by the school kitchen).
Staffing
The nursery is staffed by qualified practitioners who all work together as a team to provide high quality education. Every Nursery child has a designated adult 'key worker' who will be the main point of contact for parents/carers.
Provision

We offer high quality play-based provision including role-play, sand, water, construction, reading, mark making, and outside play.​
Children can engage in a range of learning, which is relevant and appropriate to their stage of development, both in and outdoors.
For more information on the Early Years Foundation Stage, please see below:
The website and free booklet, 'What to expect when', helps parents/carers find out more about how your child is learning and developing during their first five years, in relation to the Early Years Foundation Stage:
Before and After School Club
'Playdays' (who provide our Before and After School Club for all children) are able to provide Breakfast and After School provision for nursery children 7.30am to 6pm. They provide breakfast, snacks and a range of activities. Please email enquiries@greenlanenursertyltd.co.uk for prices and further information. More information can be found on their website - https://www.greenlanenurseryltd.co.uk
More Information and Booking a place
If you would like to know more about our nursery or book a place for later in the year, please get in touch with the school office or email:
We welcome visits from prospective parents/carers.
Useful Links and information
Please click on the links below: